It was breaking news for all sports fans in New Zealand. There was food, wine and celebrations when Spark Sport CEO Jolie Hodson said they won a six-year deal to broadcast cricket. It was the thing to catapult the provider into one of the significant players for delivering sporting action.
The first problem came when Sky Sport still has rights for four years. Cricket coverage was to be divided, and there was a storm following on social media, especially on the Black Caps FB page.
The biggest issue for many was stumping up for two subscriptions. The over the top prices for Sky Sports who are all too keen on plugging the top brands, and not listening to users. Besides, finding the subscription for the newcomer.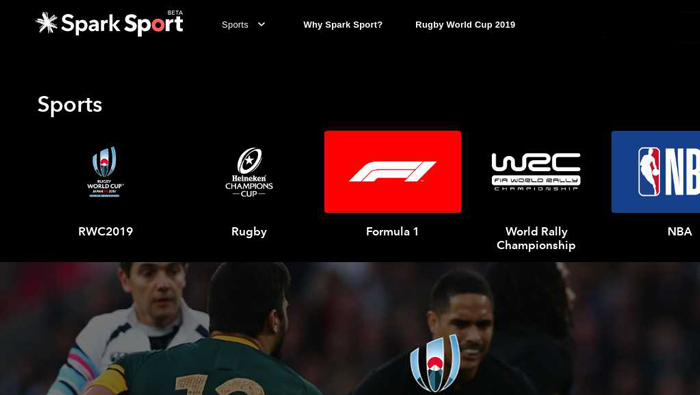 Here you can find out, which is the best Spark Sports alternative that delivers all the sporting action you can desire. First, we will look at the biggest downside of using the Spark Sport app as it stands.
What Happened to Spark Sport?
With grabbing the rights to the 2019 Rugby World Cup, things were looking promising. While the service was still new and classed as a beta by many, it was expected to have a couple of teething issues.
It was promising to have a cheap signup option, without the need for internet or mobile phones plan. However, it does take a speedy internet connection, with fibre being the best option. Unfortunately, not all sports fans in NZ have fast internet to the required level.
With a minimal amount of live-action, their biggest test will be live sports while most of their content is watched in the middle of the night. Once regional sporting action kicks off, times are regular and there can be a massive demand on the network of the company.
The nail in the coffin was fans waiting from Saturday morning for the big game. Fans sat down to watch, and from Auckland, Wellington and other areas, some fans saw complete failures, while others saw pixilation and loss of picture.
Such was the degree of the crash; Spark asked the broadcasting partner to offer free to air sporting action for several days in a row after the glitch.
It was the company's second meltdown, but during beloved home sporting action, that is the limit. Sporting fans were looking to find alternatives, as Spark was supposed to be the new thing.
Here you can find the best alternative streaming service to catch sporting action rather than watch Spark Sport and wonder if it will die on you.
Best Alternative to Spark Sport
Using a VPN, you can access Kayo Sports. Although this is based in Australia, it is straightforward to access and offers lots of sporting action for every sports fan.
Costing $25 AUS per month for 2 streams or $35 for 3 streams, subscribers can watch live and on-demand with no spoilers.
All the action is HD depending on connection speeds, and you can use the Kayo sport app on PC and Mac, iOS and Android, Smart TV's, Chromecast, tablets, Samsung TV's and others.
Sports included are the best from AFL, Super Rugby, Six Nations, National/ world rugby, Motorsport, Basketball, cricket, tennis, golf, and lots more besides.
The biggest drawback is for soccer fans, as Kayo has no broadcasting rights for the English Premier League.
How to Watch Kayo Sports in NZ
Register for your chosen VPN provider (ExpressVPN is our the best recommendation)
Download the VPN software to your device (download link given as well as in the app store for mobiles)
Log in to your VPN. Change the country to an Australian server
Create an account with Kayo Sports (You do require an Australian cell number to activate your account- see below)
Enter your NZ credit/debit card billing information
You can make use of your 14-day free trial before you extend or cancel
If you know anyone in Australia, then you can use his or her cell number for the one-time passcode. Alternatively, you can use Spoofbox.com and rent a virtual Aussie number.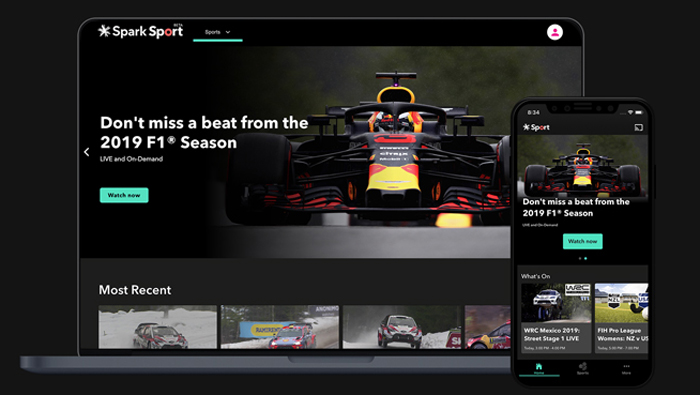 Best VPN's for Spark Sport Alternative
When video streaming in NZ, you will need the best VPN to offer the fastest streaming speeds. Luckily, the two recommendations are at the top of their game in this department.
1. ExpressVPN
ExpressVPN is the best VPN for streaming sports broadcasts to any country. The provider offers the fastest connection speeds on 3,000 servers in 94 countries and easily handles 4K HDR streams from live sporting action.
Users have unlimited bandwidth and servers that switch to city level. In addition to Kayo Sports, you can unblock Netflix, Hulu, iPlayer, Prime Video and other streaming services.
It offers military-grade encryption, a kill switch, zero-logging policies and headquarters outside any jurisdiction.
Customer service is 24/7 with live chat, email support and other assistance. There are native applications for iOS, android, macOS, Windows, Amazon Fire TV and Linux.
They also have browser extensions for Firefox and Chrome. Users can have 5 connections or install on routers for unlimited connections. (Read our ExpressVPN Review)
2. IPVanish
IPVanish operates over 1,300 servers in more than 75 countries and is fast enough to stream live sports action in high resolution from Kayo to New Zealand.
The VPN is compatible with Windows, macOS, iOS, Android, Linux, Fire TV, Chrome OS and some routers. You can establish up to 10 simultaneous connections.
There are no VPN logging, and with 256-bit AES encryption and a kill switch, each user's data remains private and safe from prying eyes. It uses OpenVPN, IKEv2, and L2TP/IPSec protocols and supports SOCKS5.
Users can test all its new features with the 7-day money-back guarantee, with just enough time to check out the latest sports action and compare it to Spark Sport before committing and making sure it meets all your requirements.
Both these VPN's are great options for streaming sports, yet ExpressVPN is the preferable option as it inches in front by delivering a trouble-free experience.
Make use of the 30-day money-back guarantee, and you will see it provides Kayo Sports NZ streaming, with no issue and free while you use the Kayo free period.