Kayo Sports is crammed full of sporting action that can satisfy any fan. It comes with some of the most popular soccer leagues, motorsports, rugby, cricket, and many others.
While it is at the very top of streaming services, it is, unfortunately, geo-restricted to Australian borders. Before diving deep into what the channel offers, and where you can access it, you will need a VPN to watch Kayo and bypass these restrictions.
Besides, it can help if you have family or friends in Australia to complete the sign-up process for you.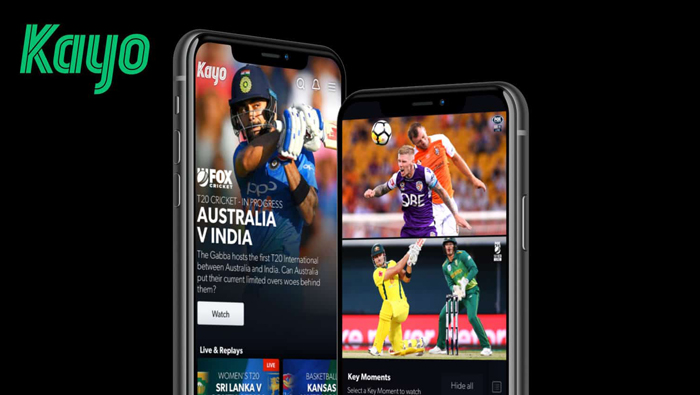 What Channels Does Kayo Sports Have?
You may be surprised to see how many channels Kayo sports crams into its service. Besides this, they have tons of docos from ESPN and lots of Red Bull action.
Here are some of the popular live channels that go to make up the service.
ESPN, ESPN 2
FOX SPORT NEWS
FOX 501, FOX 502, FOX 504
FOX-SPORTS 503, 505, 506, FOX-SPORTS More +
BeIN SPORTS 1, 2 and BeIN 3
Racing.com
What Can I Watch on Kayo Sports?
When you access Kayo Sports, you will find one of the largest selections of sports streaming action available on any streaming service. Fox Sports has done well to pack so much into one service.
AFL
Cricket, Tennis, Golf
NRL, NFL, NBA, NBL, WNBL
Formula 1, Supercars
Soccer, Rugby Union
Ice Hockey, Baseball
Boxing, UFC, Wrestling
Acrobatics, Super League Triathlon
How Much is Kayo Sports?
The prices for Kayo are reasonable for sports live and on-demand, you can find. It offers two plans
Basic $25 per month
Premium $35 per month
Both options allow you to watch live and on-demand, come with no spoilers, stream in HD, and you can watch on the most popular devices. Premium offers one extra screen you can use to watch the action.
Both plans offer you a 14-day free trial before committing.
Kayo Sports Device Compatibility
While not the biggest range of devices, you can use Kayo on the following.
Android, iOS
iPhone and iPad
PC and Mac
Android TV, Chromecast, and Apple TV
How to Watch Kayo on TV
Fans will want to watch sports on the large screen. While Kayo doesn't support many TV options if you ask, can you stream Kayo to TV? There are straightforward ways how to get Kayo on TV.
Two common ways are to cast your Kayo app from your Android and iOS devices, or you can use Google Chromecast to stream to your TV. You can also get a Kayo Sports apk that runs on some Android TV devices.
There is one other option that can make it a great Kayo experience. If you have Kodi, you can find a Kayo Sports add-on.
Here is the step-by-step guide to install the add-on to Kodi
Install Kodi add-on Repository
Go to Main Menu – "Add-ons My Add-ons"
Click ".." and select "Install from repository"
Select MattHuisman.NZ repository
Select "Video Add-ons" and then "Kayo Sports"
Select "Install"
The add-on will download and install
You can access the add-on from the main menu
Log in using your the Kayo login details
Be sure your VPN is running and set to an Australian server before trying to watch Kayo Sports.
Kayo Not Working
You can only stream Kayo in Australia. So, accessing it outside Australia, the channel checks your physical location by the IP address of your connection, and you will receive the geo-restriction error if you are outside Australia.
Therefore, how to watch Kayo sports NZ and overseas? Here is the step-by-step explanation of how to do it.
Watch Kayo Sports with a VPN in New Zealand
Here is the step guide on how to watch sports on Kayo with a VPN.
Subscribe to any recommended VPN service
Download and install the VPN app on your devices
Log in to your VPN app connect to any of the Australian Servers
Head to the Kayo homepage and create your account
To activate your account, you need an Australian mobile number (see below)
Enter your NZ card details
Enjoy for 14 days, and then either extend or cancel
Activating Kayo with an Australian Number
One of the most frequently asked questions is how to activate your account if you need an Australian mobile number? Here are three ways you can get a number to verify your account and be watching Kayo from NZ.
If you have any friends or family in Australia, ask them to receive the one-time pin code
Alternatively, buy an Australian SIM from DataGo (https://datago.co/) and activate it.
It is possible to also rent a virtual mobile number in Australia from Spoofbox. You can use it for this purpose and then cancel once your Kayo Sports account is activated.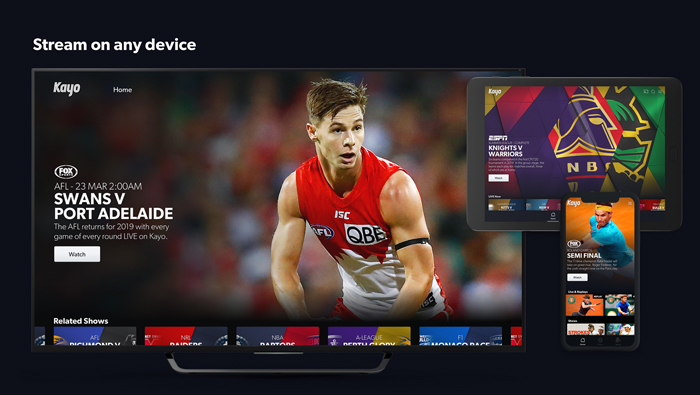 Best VPN's for Kayo Sports
It is easier to sign up and stream Kayo sports to NZ than it is to find the best VPN for NZ. Here is a quick rundown of two of the best VPNs for streaming any HD content to NZ or other remote countries around the globe.
1. ExpressVPN
ExpressVPN is the premier streaming VPN and has 3000+ servers in 94+ countries.
It bypasses restrictions to any streaming platform such as Kayo, 9Now, Netflix, iPlayer, and others. Streams are buffer-free thanks to the fastest VPN speeds, and even ISP's can't throttle connections.
The VPN has the best security, with robust DNS and WebRTC leak protection, a zero-log policy, military-grade 256-bit AES encryption, zero-knowledge DNS, and kill switch.
Headquarters are outside 5 eye jurisdictions in the British Virgin Islands. They offer unlimited bandwidth, easy server switching, and one of the best customer support in the industry. A 24/7 live chat means you will never be stuck.
You can make five simultaneous connections on Windows, Mac, iOS, Android, and numerous other devices. Routers allow you unlimited connections so that you can watch Kayo on any device without restrictions.
2. Vypr VPN
VyprVPN has more than 700 servers, and although it is not the largest, the company owns and maintains all its servers and devices.
They provide a secure privacy policy that is independently audited so that all connections are as safe as they claim. Since they are based in Switzerland, they are also located outside of any governing jurisdiction.
The company uses the best security protocols, such as OpenVPN, L2TP, IPSec, and PPTP.
They include secure AES 256-bit encryption, and with a kill switch. Vypr offers VPN applications for Windows, Mac, Android, iOS, TVs, and routers.
You can easily bypass geo-restrictions, and to hide your location and spoof connections, using their Chameleon technology to obfuscate you. It also offers a 30-day money-back guarantee so you can test all their claims.
Of the two VPN's here, ExpressVPN is the recommendation. It is proven the number one streaming VPN for many years.
It also comes with a no-argument 30-day money-back guarantee. Sign up to use the Kayo free trial, and you will find you have the best VPN to watch sports in New Zealand from Australia or any other country.